The current name of this game is "Box's Adventure", but that might change.
Or I might be lazy and not change it!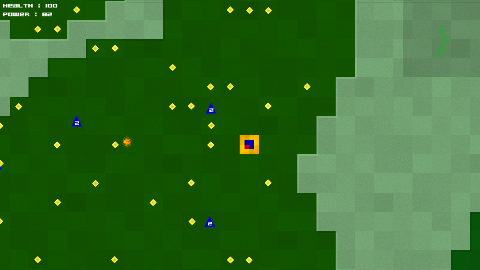 In this shot, you can see the following.
1. Box! He's a box!
Actually, he's a square since he lacks a third dimension, but we'll ignore that for the moment!
2. Triangles. They have 2 points of energy! If they touch you, they take 2 Health Points off you.
3. Flame. This should be a water splash. I haven't updated the sprite yet! Water does a little damage to enemy, Flames do more.
4. Diamonds. Collect them for points, and also to build your Health and Power. These are important, so although you might want to rush around and pick them all up, it's probably best not to do that!!
Shooting needs power, as does digging!
5. Badges! Box is yellow and red, the blue bits are the 3 badges he's collected so far in his adventure!
Missing features : Loads!
Less than 24 hours to complete the game!!
Views 0, Upvotes 0
Daily Blog