Palettes are vaguely integrated into the engine.
For the meantime, the palette simply forces any colour drawing to be selected from within a selection of predetermined colours.
Due to the way JavaScript's canvas drawing works, the effect isn't 100%, with all manner of anti-aliasing getting in the way of things.
A better option would be to draw the spritesheet, then do a second pass, forcing each individual pixel to be from the chosen palette.
.. Another day, perhaps.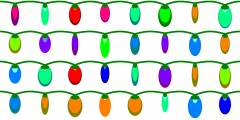 Meanwhile, I've also added
Festive Lights
, because it's Xmas!
Views 2, Upvotes 1
Jnksg Blog