Blimey!!
Step 1. (3/4 hours)
After about 3 or 4 hours spent prodding Ubuntu to actually get it to install properly, I finally managed to get it up and running by downloading a different Ubuntu, and installing it onto a thumbstick instead..
Step 2. (10 seconds)
I downloaded BlitzMax and followed
these
instructions.
Basically I just copy+pasted that topmost line of code into the Terminal, got that to update things, and then made sure the proper drivers were installed. Very swift and easy to do.
BlitzMax didn't even need an install. Downloaded it, popped it on the thumbstick, un"gz"'d it, and clicked the MaxIDE icon.
Blinkin' eck, I really wasn't expecting it to be that easy!!
Step 3. (10 additional seconds)
I ran my test engine, and was surprised by the results.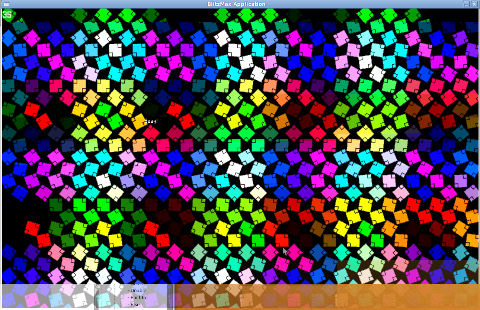 It actually worked! (screenshot's a bit fooked, mind!!)
Although it will need a few tweaks to keep the speed up and running, and I did have to comment out the DirectX references (2 whole entire lines of code!!!!!) but otherwise it all seems to be quite happy, including the audio which I really didn't expect to actually work at all!
*phew*
Total length : about 3 hours, mostly the fault of what I'm assuming was a slightly dodgy install DVD.
Views 3, Upvotes 2
2010 Framework