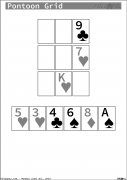 This week's game sees you trying to place the cards in such a manner that all rows and columns add up to 21.
The game should be fairly easy to solve, as long as you remember the card values.
Jack, Queen and King are all worth 10.
Aces can be either 1 or 11.
You can
Play Pontoon Grid here
, or wait for it to show up in your regularly scheduled puzzle sheet.
Read More
Views 8, Upvotes 0
Foldapuz , Logic