Journal Homeward and Journal Homeward Bound.
Technically that's one Choon but with different instruments!
The more chippy edition will be used in the forthcoming "It still doesn't have a name yet" Castle Quest. (Hmm..That's a nice name!)
The more synthy version was created for the heck of it!
Exactly the same, but for the instruments.
Sorted!
AL's Trash!
I spent most of yesterday working with KORG Gadget, again.
I'm currently working my way through the ENTIRE collection of ALChoons, re-rendering them, fixing them up in CoolEdit, and re-uploading them to the server.
Along the way, I'm gathering up oodles of "Trashcan" Choons, most of which were abandoned early due to them sounding terrible!
But they're all being given a new lease of life as little mp3s, and are making their way over to the Patreon page. If you'd like to hear some of what I'd consider to be crap/unfinished ALChoons, along with other oddities, now's your chance to hear them! .. But only by subscribing to the Patreon!
Developments
Not too much done to the game, yesterday. I spent some time trying to find a nice ramp for the castle difficulties, but so far it's getting far too hard, far too quickly. I need to ease off a little, I think.
Otherwise, the game's now at a nice playable state.
I've added the above choon when roaming the overworld, but will have to create a in-castle "battle" theme, to go with it.
|UPDATE|Journal Intense will be the battle tune
Then it's a case of neatening the edges, adding sound effects, and hopefully I should be done fairly soon afterwards.
*phew*
Daily Doodle : Sprung a Leak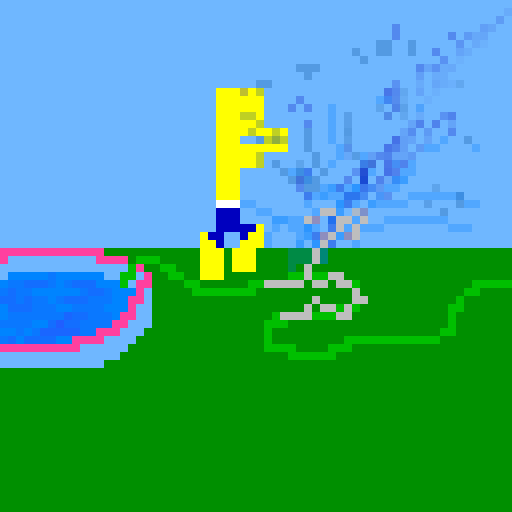 All Platdude wanted was a nice relaxing rest, with his feet soaking in the paddling pool.
Things never go the way he plans.
Misc..
I code and I choon and I write like a loon,
Whilst I'm sat on the couch, in this place.
I wonder if anyone sees all these verses,
Hid all the way down at the base.
-=-=-
If you'd like to stuff my mailbag, (Please do!!) you can do so right here, at http://bit.ly/AGAW_Mail. Send comments, questions, game ideas, thoughts and more, and they'll usually show up on my daily blog, the very next day.