Also available on SoundCloud
Developments
I found myself getting sidetracked by a completely unrelated, and quite boring, project yesterday.
I'm starting to think my mind isn't quite in the mood for doing a Game, this week.
Hmm.
No matter, I'll try my best.
It's (as always) now a case of fitting the pieces of the puzzle together, and trying to make sure it's playable at the end.
I'm not sure it's very playable, right now, but I've still a few days left.
.. As long as I don't get sidetracked.
As for the new project. It's quite a lengthy one, and involves complicated database management, and other such stuff.
There's a LOT of complex things to be dealt with, so my head's currently whizzing with the prospect of all the wonderfully puzzling elements that I'm going to have to deal with. Hurray for Coding Puzzles!!
As it is, it won't be ready to show off, or even properly announce, for a long, long while.
But I started it, yesterday, and it's about bloomin' time that I did.
Super secret project : Begin – May 4th 2017
Daily Doodle : An Old Friend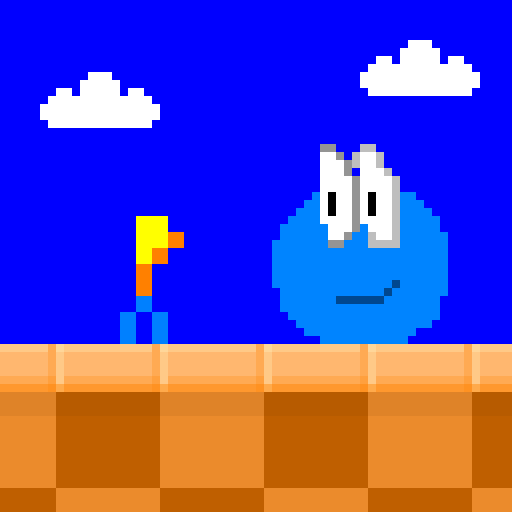 Whilst at the GameCon, Platdude met up with an old friend.
He loves this guy. After all, he is a blue sphere!!
Misc..
The project begins.
But how long will it be?
I think of the scale,
And it's massive to me.
-=-=-
If you'd like to stuff my mailbag, (Please do!!) you can do so right here, at http://bit.ly/AGAW_Mail. Send comments, questions, game ideas, thoughts and more, and they'll usually show up on my daily blog, the very next day.