With the editor in, pretty much, full swing, I'm heading back to playing with the bugs again..
Update
Having been undecided for a while, I eventually decided that the green bad guys should explode with a nice little puff of green smoke..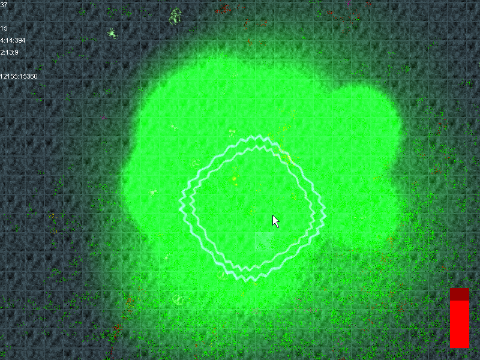 This is what happens when you turn off the death routine, fill the screen with Greenies, and then touch a Bomba..
...
Obviously that won't happen in the real game, because the Greenie's would've killed you minutes before this situation arises, but even still, the framerate's holding on at 37fps.. That might not seem a lot, but this is running on my rubbish "Let's check it works AT ALL!" Celeron system, whilst Winamp's playing the Sonic R soundtrack in the background...! (Winamp takes a lot out of a Celeron, these days!!)
So, I'm pretty happy that the game will keep on ticking.. Nice to know!
More to come!
Views 59, Upvotes 6
Daily Blog