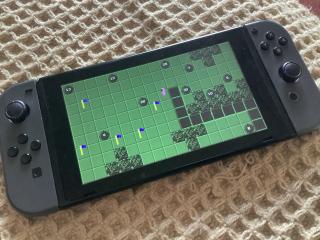 Guide our intrepid adventurer on a quest to grab all the flags from the minefield.
It's dangerous work. Take care!
If you've a Switch and SmileBASIC, you can grab a copy of the game using the Public Key
4BKKE8E8E
-=-=-
View on YouTube
What I Didn't Do
Make it any better.
The game's alright, but it's just not hard enough.
Having a preset path seems to make it all a bit too obvious when playing back, meaning the levels really aren't all that hard at all.
At one point I tried making it so you had to collect the flags in a certain order, but that made things even more obvious as to what the original path was.
I'm not sure how to make this any harder, if I'm honest.
Hmm...
Views 63, Upvotes 3
Petit Computer , Smilebasic , Nintendo , Switch , Petit Switch , Petitcom4 , Release