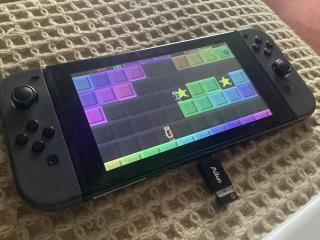 Guide 1 and 0 on their epic quest to fetch stars, together.
Happy 10th Anniversary, PetitCom!
If you've a Switch and SmileBASIC, you can grab a copy of the game using the Public Key
4QZX5Z3H3
-=-=-
View on YouTube
What I Didn't Do
It'd have been nice to have had some proper enemies in the game, but .. Spikes are enough, right!?!
Otherwise, it's a fairly random level layout, and absolutely no care and attention has been made to ensure the levels are beatable!
I'm now thinking that pushable indestructible blocks might've helped..
Hmmm...
Views 59, Upvotes 1
Petit Computer , Smilebasic , Nintendo , Switch , Petit Switch , Petitcom4 , Release