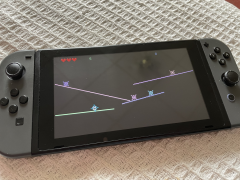 The end of the world is catching up with Rickity. Roll on, Rickity! Roll on!!
If you've a Switch and SmileBASIC, you can grab a copy of the game using the Public Key
4D34ES3C4
-=-=-
View on YouTube
What I Didn't Do
1. Spell Rickety right. *sigh* CBA changing it. It is what it is..
2. This morning I made a list of changes to do, including adding a "Storm" to the left side, and switching out the seven-hundredth appearance of Spikes.
I lazily added a black rectangle on the left, and kept the Spikes in.
3. I also didn't change any of the gfx, but I think adding the "screen dirt" was a good solution..
.. Maybe..
Views 66, Upvotes 5
Petit Computer , Smilebasic , Nintendo , Switch , Petit Switch , Petitcom4 , Release