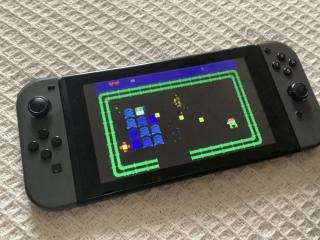 Dodge enemy bullets, and search the barrels to find the hidden disks and return them to the hub.
If you've a Switch and SmileBASIC, you can grab a copy of the game using the Public Key
4JXDJ4X3
-=-=-
View on YouTube
What I Didn't Do
I haven't finished off the JSE edition yet. It's "almost" ready but I haven't done the Disk stuff yet.
.. Which is odd, because I started that one BEFORE the Switch one.. hmm..
Also, there are no powerups, this time. They were FAR too overpowered the last time.
Views 59, Upvotes 2
Petit Computer , Smilebasic , Nintendo , Switch , Petit Switch , Petitcom4 , Release