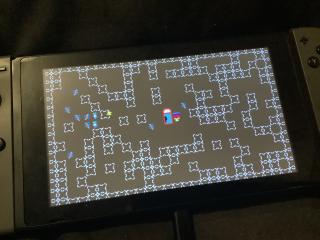 Help Roland gather up the time crystals (shhh, don't tell Horace).
Due to an erroneous glitch in the time booth, there may be multiple instances of yourself. Do not touch yourself.
If you've a Switch and SmileBASIC, you can grab a copy of the game using the Public Key
4ZEED4WD
-=-=-
View on YouTube
What I Didn't Do..
I kinda regret not having left space for little level names at the bottom of the screen, but given there are 250 levels that I'd have to have named, that's probably not a bad thing...!
Otherwise, much like last week's game, this one turned out really nicely.
I really should get back to doing Browsercade games!!!
Views 207, Upvotes 1
Petit Computer , Smilebasic , Nintendo , Switch , Petit Switch , Petitcom4 , Release