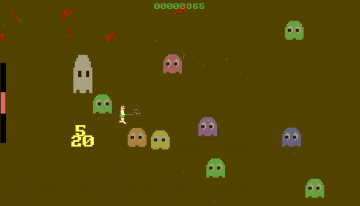 Zap all the ghosts away before you run out of time.
You can
Play this game over at GotoJSE
, where you can also see it's hastily put together code!
-=-=-
View on YouTube
Controls

- Move
Game Background
Late last week, GBGames tweeted about
a News Report
, where there weren't enough Young Farmers, and jokingly asked gamedevs to submit a game concept.
Who am I to resist a gamedev challenge!?
I jokingly replied that the game could be about a journalist who's killing off the young farmers, so that his story wasn't ever inaccurate.
LOL!
.. Then I made the game within about 40 minutes..
This is a less violent recreation of that game, with a teensy bit more balance added to it.