Time to switch up my art tool on MacOS.
As much as I've enjoyed using Pixelmator Pro, it's becoming more and more a Photo tool, and no longer suitable for pixelart and sprites.
-=-=-
Yesterday's update brought the app from v2.something to v3.0, and with it came a whole bunch of admittedly quite wonderful templates that can be used for all manner of things.
Turning your photos into Profile Pictures, making posters, brochures and more, it's almost like they've added a layer of DTP to the art tool. And that's great, I mean, really it is. And if I found myself doing that type of thing, it'd be a fantastic addition to the tool.
But I don't.
I use it to upscale the daily pixelarts, so the power-tools come in handy there, but other than that, my time with the tool is spent drag'n'dropping sprites onto sprite sheets, and cleaning up the odd pixel here and there.
And, for that purpose, the tool seems to be starting to lack in features.
It doesn't help that basic line drawing and such all seem to be anti-aliased.
Need to draw a pixel-perfect diagonal line? No chance.
Need to resize your selection by 3 pixels on all sides? Good luck.
Want to drag that pixel to the other side of the screen? .. Occasionally it'll glitch out and grab half-pixels!
It's a powerful tool, and I do like it, but it's just not working for the things that I need it to.
Time for a change.
Over on SoCoder, AndyH suggested
Aseprite
, so I downloaded the trial and gave it a go.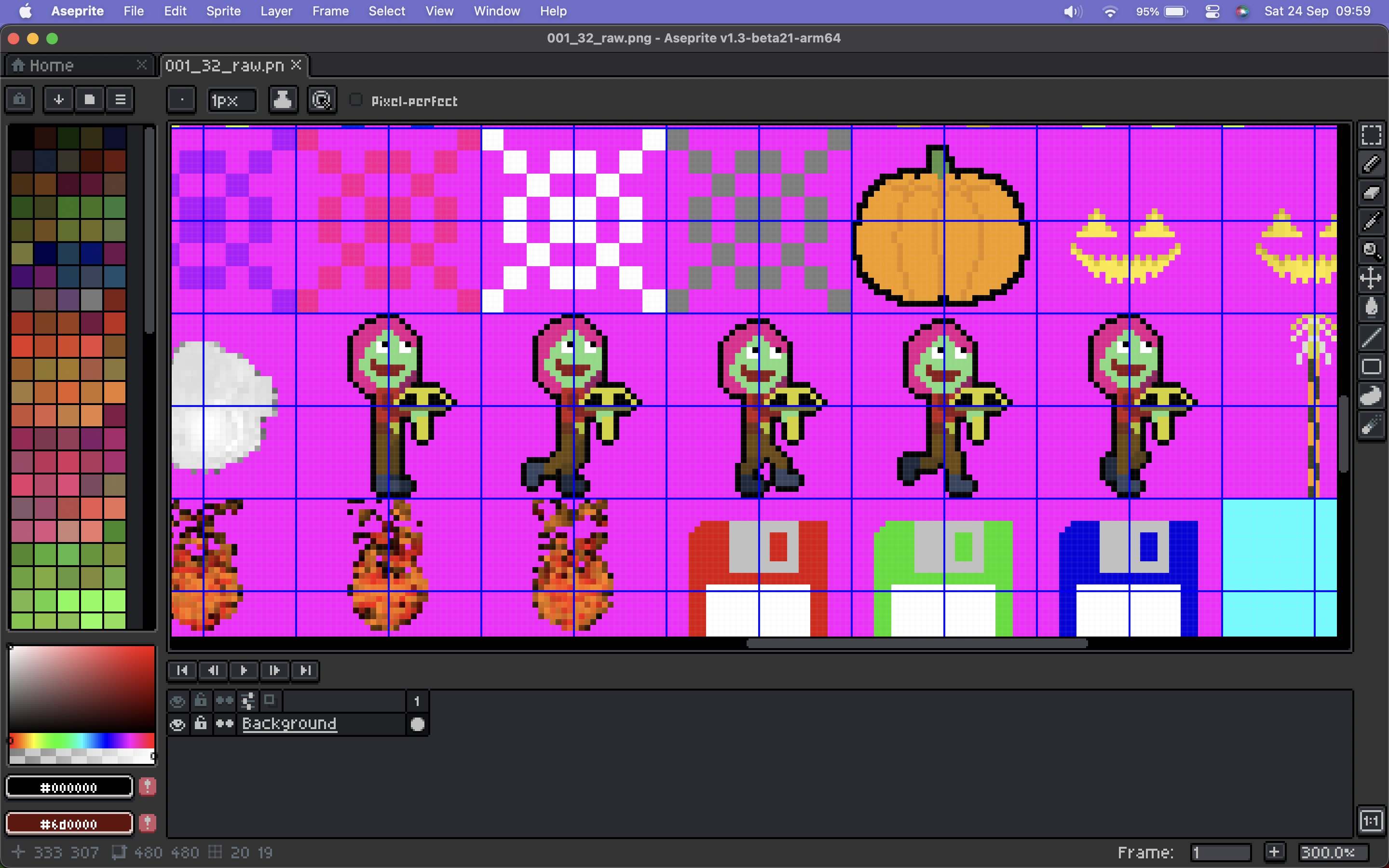 A simple interface, tools that work aliased to pixels, integrated RotSprite for crisp clean pixel rotations and scaling, gradients with dithering, and much more.
Oh, the joy of having a decent pixel editor!
Best of all, you can change ALL the keyboard shortcuts, so now all my favourite PaintShop Pro v7 keyboard shortcuts are back in play once more!
Huzzah!!!
There's still the odd quirk to be ironed out, but I've already got used to it's stylings.
.. though I still used Pixelmator Pro to upscale this morning's Platdude HD image... But it's good at doing that!
Meanwhile...
In a SpikeDislike mood, yesterday, I turned to the SpikeDislike.com site, and .. it's very broken.
Not only is the site completely failing on Safari for reasons I'm not 100% sure of, but I've also not been comfortable with the way I laid out the sprites.
A complete redo from start is in order, there, I reckon.
Do I build my own, or do I download a ready-to-go framework?
Hmmm..
I decided to shop around a bit, and the first on
the list at Wikipedia
is A-Frame.
A-Frame is a Virtual Reality framework, which doesn't exactly sound like an ideal solution for SpikeDislike..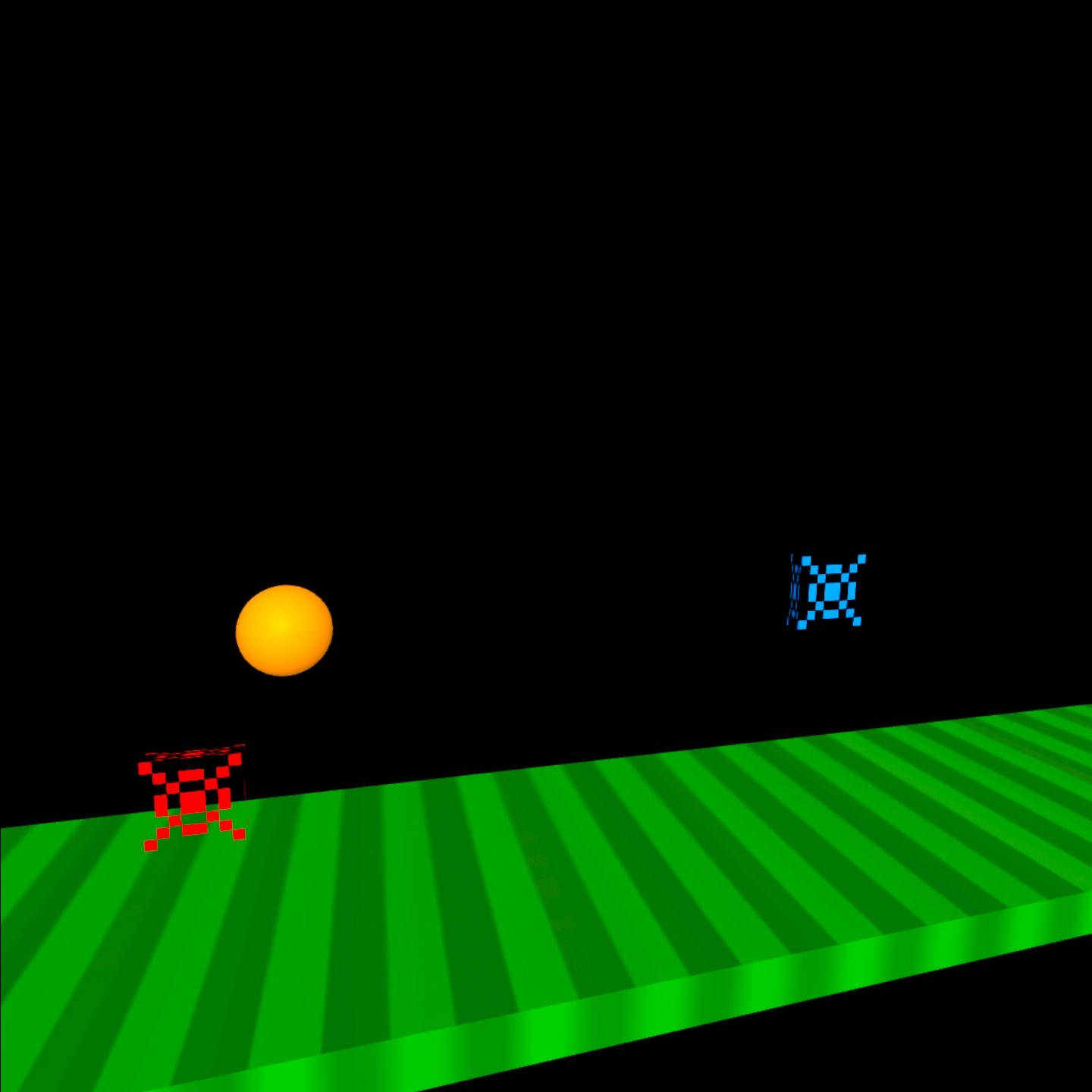 Screenshot taken on the Oculus Quest 2.
oops!
I need to voxelise the pixels.
I tried a number of methods to make the spikes chunky, but nothing I tried seemed to work out as I'd expected.
The best method I had working required a different object for each coloured spike, as it wouldn't (for reasons I'm unsure of) let me recolour the object, unless I passed through each of the "pixels" and re-assigned them, which ... as you can probably imagine, was a wee bit slow when flicking through ALL of the spikes!!
Nah, that's not working.
Project scrapped, for now.
You can
see it here, if you really want to.. It's not a game!
But the idea of using a 3D engine to do 2D isn't a bad one, heck I once used Blitz3D to do the very same thing.. and if I can roll out a nice solution for SpikeDislike, it might be possible to then drag it back over to Shoebox and Browsercade.. Maybe even JSE, too..
I'll probably keep hunting, and see if I can find a decent solution.
I might even stick with A-Frame.
Who knows..
Incidentally, window.requestAnimationFrame doesn't work in VR, because there isn't a Window.. Derp!!
If you try the VR test in VR, you'll notice it suddenly stops when you try to switch to VR mode!