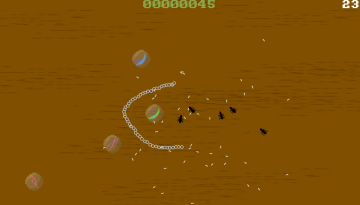 Use your marbles to protect the chain from the incoming ants.
You can
Play this game in your browser
at GotoJSE.com
-=-=-
View on YouTube
Controls
Mouse/Touch controlled
Grab either of the sides of the chain and drag.
What I Didn't Do
It wasn't until I added the ants that the game became a game, and since adding them, I haven't come up with anything else to do in the game!!
Maybe a health powerup might help?
Why not see if you can add one!!