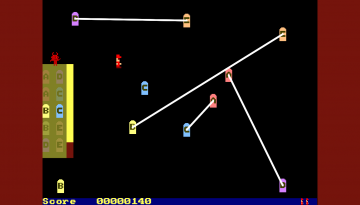 The demon overlord has contracted you to reconnect all of his computer equipment.
Hop to it.
You can
Play this game in GotoJSE BASIC, in your browser.
-=-=-
View on YouTube
Controls

- Move

- Cable Pickup/Put Down
What I Didn't Do
I wanted this to be much more puzzley, but I couldn't quite wiggle it to work well enough.
One of the biggest issues that using GotoJSE, and having to deal with the slowdown therein.
I originally intended to have wiggly cables that you could curl around the level, but JSE just couldn't hack it!
Bah, humbug..