Two more games to add to the archive, and a big bug to fix.
-=-=-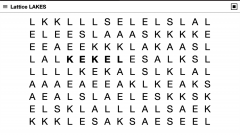 Foldapuz Play now includes the ever-unpopular Lattice game, because why wouldn't it!?!
The simple game of One-Word-Search becomes increasingly difficult when the word to find only has five letters, so the word grid also only contains five different letters.
Oh so crazy!!
You can
Play Lattice here
.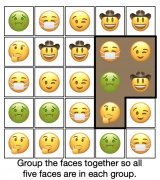 Borders is also part of the engine. I opted to use Emoji for the game, rather than try to get the Face-Font to work with it.
After all, there's plenty of Faces in the Emoji collection, so it'd be silly not to make use of them.
I dug through the emoji pile and tried to pick out distinguishable emoji, so you hopefully shouldn't find it too hard to see which is which.
You can
Play Borders here
.
Today I need to fix a bug in the timer. Not sure why, but it's sometimes showing your score as 0 seconds!
Eeek!
After that, post the games into the archive, and do this week's ALChoon. I think I'll wimp out, and just post today's SpikeDislike choon, because .. Man, it's been hard trying to come up with a new choon, this week!!