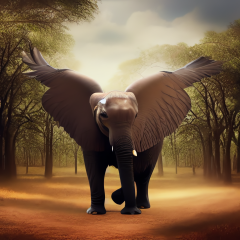 The Mutant Monkey Nuts are attacking. Squirt off their Mutant Hats and gobble them up, quick.
You can
Play Elegant Eaglephant in the Browsercade
on Desktop, Mobile or Tablet.
-=-=-
View on YouTube
Controls

- Move

- Flap

- Squirt
What I Didn't Do
This week's game came out of an indecision as to whether Elegant Eagle or Elegant Elephant sounded like the better title for this week's game.
In the end, I decided not to choose, and instead pick both.
Although I didn't add any powerups, I also didn't plan any powerups, either, so in this case I didn't not do them!!
I'll be honest, this game didn't nearly get finished.
At some point yesterday I started to get a horrible repetitive feeling, and almost scrapped it, but ultimately decided against scrapping it, because..
Gosh, Eaglephants are cute