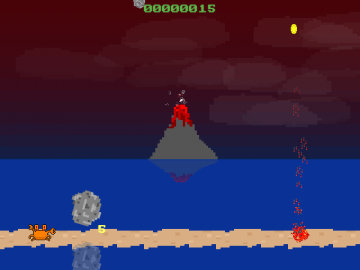 Grab the coins and dodge the rocks, as the Violent Volcano erupts once more.
A game semi-suggested by Michael Fernie, but then reduced to minigame size!!
You can
Play this game
over at GotoJSE.
-=-=-
View on YouTube
Controls

Walk

Jump
What I Didn't Do
The game's very much a Minigame, if I'm honest. And, yet another dodge-em-up. I've been coding a lot of those, lately.
Hmm.
Michael Fernie's original comment is
here
, and he suggests rescuing villagers and more.
I didn't make the game anywhere near that complicated!
Apologies to all for spending WAY too much time playing games, this week, instead of making them.
*tsk* Lazy Jay!