Much as expected, this week's AGameAWeek has become a Vib Ribbon style game.
To be honest, I had this idea for a moment, last week, whilst doing the Go Left game. The idea stayed in my head for about a minute, before vanishing.
But having finally gotten around to playing Vib Ribbon, this week, I figured it was time to put the plan into action, and with a nice time-saving addition (the graphics!) I managed to get it done in time.
So here's J-Walker.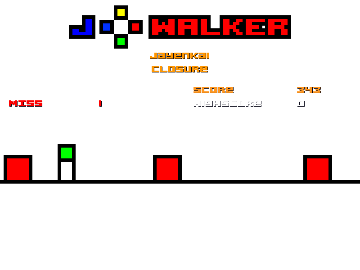 Hit the cursor buttons in time with the music (directions are as shown in the logo) to guide J-Walker towards the end of the music.
Only 3 tracks are included, but they're easy enough to add.. Unplayed instruments, 01->12 for the different blocks.. Have a nosey at the included tracks to figure it out!
And, if I can find anything good, I'll add some more music later.
..
Maybe!
Meanwhile, you can
Download J-Walker here
.
Views 54, Upvotes 0
Release