Yeay! It's Horizontal Shooter Redux!!
In this first release, there's a few pointers. Read inside for those.
Otherwise, nice and quick, here's a picture.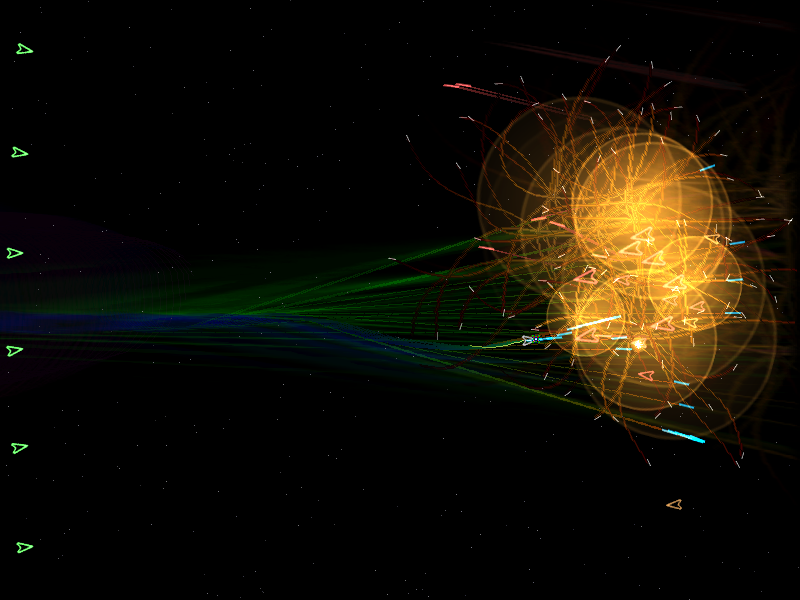 And you can
Download H~S~R here!
! yeay!
-=-=-
1. Music
I'm not sure when it started to happen, but lately Blitz tends to crash whenever I restart a mod 3 or 4 times. I'm going to have to check previous games, and see exactly when it started, but I've a feeling it was probably way back during Alien Deathmatch 2, when I updated Blitz3D from my "It's safe to use this one" version, to a more recent update.
D'oh!
It wasn't noticable during AD2 because that used MP3 music, whereas this would've used Mod music.
Due to this annoyance, I've currently disabled the music.
It's a shame, but it's necessary..
I'll try to dig out my old Blitz edition, and get that one up and running again.
2. Badges
Since this is our first game within the "Badges" realm, things might go a little crazy!
I
think
everything should work out well, but.. you never know!!
Once you've played the game and quit out, then back in a couple of times, let me know if it keeps your scores, and settings and things..
Hit Tab to see your badges

3. Fullscreen!
Tap F1 ingame to switch to Fullscreen.
It saves the setting, then quits, then you have to reload it.
I tried doing a complete "Restart" thing, but with the Badge things in one place, the 2D-in-3D in another, and the game's own stuff in yet another.. things got a little messy!
So it quits, and lets you do it yourself.
..
Hopefully the settings save!
4. Background Niceness
F2 on the titlescreen lets you choose between 4 niceness levels.
Remnants is the default, and is the nicest, IMO.
Echoes is a bit weird, but also nice.
Crazy Echoes is insane, also nice, but insane.
And then there's Basic. If your game is slow, shove it on Basic, and it'll disable the additional Textured layer of buffer!
5. Lots and lots of missing stuff!
There's not really much in there, gameplay wise.
Over the next few days, I'll try to build it up a bit more.
The scouters are missing, and the difficulty's not quite right yet.
I've not added the online highscores yet, either.
Once I've "finished" the gameplay, then the highscores get put in, otherwise we might end up with oddly crooked scoreboards!
Anyway, hopefully all that should work!
Not bad for a game in a week.. (a crazy crazy impossibly busy week!!!)
You can
Download H~S~R here
! Kappow!
Views 5, Upvotes 0
Release