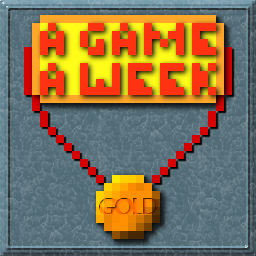 As we continue through our adventures of old crappy games, we'll occasionally trip over the odd one or two that wasn't even part of AGameAWeek.
In fact, today's game-from-the-archive outdates AGameAWeek by a good few years.
Good grief, this game's actually nine years old!
*tests the game*
And it still works!-=-=-
2004 - Space Monkeys 5
Help the insanely hyperactive Space Monkey stay safe from the invading Magic Chickens of Doom!!
A story in four parts.
This game plays a lot like The Heist, in that it's a story with scenes, and it all plays based on the pushing of your mouse button.
It's not quite as good as The Heist, but then it's quite a bit older, too.
Blimey. March 2004!!!
You can
Download Space Monkeys 5 here
for Windows only, because it's old and I didn't do multi-platform coding that long ago!
Views 2, Upvotes 0
Agameaweek Gold