A sequel/repeat this week, as the
Wednesday Workshop #167
asked us to create a game with 2 main characters.
At first I considered doing a Bill and Ted game, but couldn't think of a decent gameplay element other than "Move the blocks".. That'd be a most excellent waste of the characters.
So I resurrected
Bibbleman and Bobbleman
, and just used them instead.
Still the same game, mind.. So if you're worried that you're missing out on a Bill and Ted game, open up the gfx, replace them with Bill and Ted stuff. .. See.. It's a rubbish Bill and Ted game!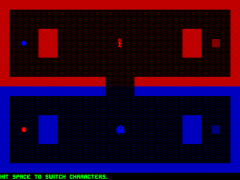 Use Bibbleman and Bobbleman to move the balls into the blocks, and then get going on the next level.
There are 5 whole levels to complete!
Shouldn't take you too long.
You can
download Bibbleman and Bobbleman here
Z/X to grab a block, Cursors to move, Spacebar to switch characters.
If you want more Bibbleman and Bobbleman, let me know...
...
So, probably not, then!