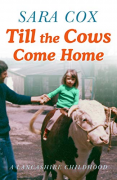 Local Legend Sara Cox has written an autobiography of her life growing up.
The book is out, today, and will probably be the next of my "reading to fill my noggin with game ideas" books that I read.
You can buy
Till the Cows Come Home
from all good bookshops.
-=-=-
Incidentally, the last "reading to fill my noggin with game ideas" book that I tried to read was
Dave Gorman's Too Much Information.
I got about 3 chapters into it, and .. I was struggling at that. The book isn't bad, it's just that it's a book all about the internet and the things that I already see 24/7. My life as a stuck-in-the-house recluse is pretty much already full of this "world of information", and reading about it wasn't doing me any favours.
I gave up on the book, sat it by my bedside, and haven't bothered to open it since.
Meanwhile, I also bought
Mike Jeavon's Viral book,
but have yet to get into the mood to read that, just yet, mostly due to my experience with Dave Gorman's book.
So, not sure which of the two will be opened first. Sara's autobiography or Mike's novel.
Hmmm..
Probably Sara's.
Views 18, Upvotes 1
Daily Blog , Reading , World Book Day