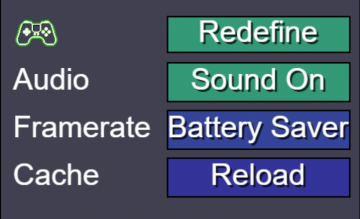 Taking the options menu directly from Shoebox, and shoving it into Browsercade, it becomes instantly noticeable how much better the thing looks when you add an icon or two.
...
.. or even just one!
-=-=-
Today I'll be drawing more icons, and making the menu look a little less wordy.
I might also head back to Shoebox and redo that menu, too, so that the two menus look more alike.
-=-=-
Incidentally, I managed to finally find a way to do Direct Game Linking in Shoebox, yesterday.
The new Goto/"Game Title" will jump directly to the game menu for whatever game is named.
eg
ShoeboxOfGames.com/Goto/Atoms
will do just that.
.. OR at least, should, assuming your shoebox is v1.027 or above.
Also, because I didn't want it to break the handy "Saves where you were" functionality, it won't forcibly quit any in-progress games, so will only work if you're currently in the menus.
But it vaguely works, so that's ok!!
Views 22, Upvotes 0
Daily Blog