Each week, as I release all my lovely games, a massive influx of fan thoughts bombard my innbox.
Be part of this amazing section of the site, by leaving comments and thoughts on the games and other bits and pieces.
You can
Play Spiky Tower in the Browsercade
, in your browser, on Desktop, Mobile or Tablet.
Spiky Tower is one of the ultra fast game that I have played from AGAW collection.
-=-=-
I always enjoyed it, but one of the few comments I ever got for Spiky Tower on iOS was "This isn't Spike Dislike.." and that player seemed awfully peeved about my "trick" to make them play a different game.
Bah, humbug..
Jumping on newer tiles every single jump gives boost to the speed and the combo points along with the high piteched jumping sound. Good thing is if the player is tired jumping and wants to slow down, relaxing on the same tile is allowed.
No time to stop! Keep going!!!
Yeah, I did actually consider adding a slow "push" to the screen, but felt it wasn't very fair given the random path generation!
If I made the paths more strategic, I could probably pop in a few more elements, but .. I don't think it's slow enough to allow you to think ahead!
Is there a end point in Path A or B as in the older Spike dislike games.
No end is in sight. The tower continues on.
I should probably have added nice effects as you climb.. Constantly changing visuals and the like..
I might add those at a later point..?
This is a vertical version of spike dislike game series, I had the same feeling of not breathing till the level is done or game over.
Yeah, it IS a SpikeDislike game, no matter what the iOS player thought!

A very good addition to the Spike Dislike and Browsercade games series.
I do like the frantic nature of it. Even if others don't think it's "really" a SpikeDislike game.
RSKGames also shared his highscores for the game.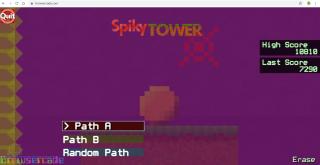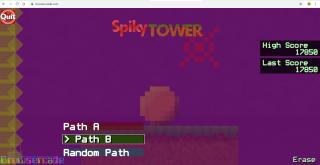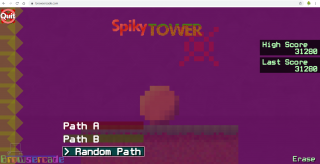 Space Clusters

Liked the enemy ship animations and the background music.

It's a simple little shooter. Sorry it wasn't anything better!
You can
Play Spiky Tower in the Browsercade
, in your browser, on Desktop, Mobile or Tablet.