A recent discussion in an email thread brought up the fact that I used to (back in the days of evil, evil, evil Napster) make weekly/daily suggestions for music I'd found.
Lately, I've been bulking up my JPop collection thanks to the wonders of Apple Music, and the idea of bringing back a semi-regular JPicks feature seemed to be a ... decent idea? Maybe..!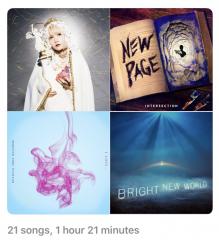 Apple Music Link
If you've got an Apple Music subscription, give that link a whirl, and let me know if it works.
The playlist is made up of music I've stumbled across during the month, roughly in the order I found it. There'll be a slight leaning towards JPop, but not all tracks will be.
Remixes, covers, videogame music.. Anything goes!
Choices aren't necessarily new tracks, either. Just new to me!
If this works, let me know if you think I should do this regularly.
Alternatively, feel free to complain that you use Spotify!!
Views 10, Upvotes 0
Jpicks