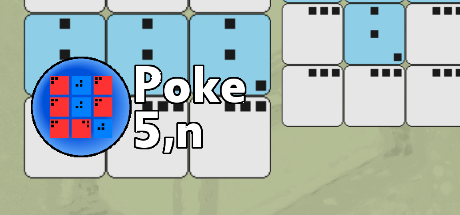 Use the five provided poke-types, and poke at five of the tiles, in order to match the given target grid.
Easy mode is more of a tutorial, Normal mixes things up, and then Hard really ramps things up.
You can
Play Poke 5,n in the Shoebox
, in your Browser, on Desktop, Mobile or Tablet.
-=-=-
View on YouTube
What I Didn't Do
The original version of this game had a lovely "Rewind" feature whenever you got a puzzle wrong. This version doesn't. That was far too difficult to replicate!
Other than that, it's more or less the same.
I WAS going to add a "Flip X/Y" thing, but realised there was no way to properly animate that, when the back of the tile was in fact .. the other tile!!
Hmm..
So, that got skipped.
Still a fairly hard puzzler, once it gets going, though.
Views 18, Upvotes 1
Shoebox , Release , Puzzle