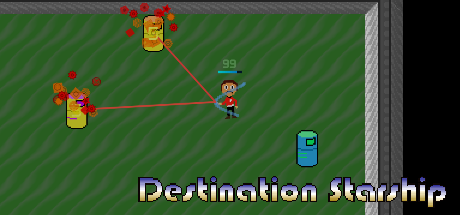 Help the lost crewmember find their way back to the starship.
Battle against fleets of enemy soldiers, and hunt for the disks that will reboot the teleporters.
You can
Play the game in your browser
, on Desktop, Mobile or Tablet.
-=-=-
View on YouTube
Controls

- Move

- Shoot
What I Didn't Do
With apologies to Michael Fernie, this game (again!) didn't end up very RPG-like.
The initial plan was to have all manner of stats and things for the weapon you have, but in the end it all just came down to a single bar, and nothing more than that.
Sorry!
Views 57, Upvotes 3
Browsercade , Maze , Top-down , Star Trek