I've decided to have a rest throughout August, and instead focus on a few unfinished bits and pieces.
-=-=-
Gamedev has been slowing a lot, lately, and I think we all saw this coming.
My head needs a break from the frantic chaos of AGameAWeek.
My plan over August is to gather ideas and put them into the giant spreadsheet of ideas for future use, rather than constantly coding them all.
I'll likely carry on doing the SmileBASIC games, though.. because those are typically easier to whip together in a few hours!!
Meanwhile, I've made a checklist..
1. Sort out the new SoCoder BBCode/Emoji Button interface.
This requires a lot of coding, a bunch of shuffling around of files, and actually drawing all those new Emojis to go with it.
2. I've never been truly happy with Foldapuz's main site interface. I mean, it "works", but it's not the most intuitive of interfaces. Pick a game on the left, plonk it onto the page. It "should" be more useable than it is..
3. Fix up Foldapuz Unfolded. Again, the interface is a little bit.. um.. .. Yeah.. Same kinda issues, and given the amount of stuff I've learned over the course of Shoebox and Browsercade, I'm almost certain I can make it work a little better.
4. Browsercade's main menu is a whopping great big long list.
I mean, that was kind of inevitable, given the number of games I'd be adding, but all too quickly it's become hard to navigate a long scrolling list like that.
I'm thinking a grid of icons would probably work better. Which is a shame, because I'd be losing the whole "Arcade" aesthetic. But functionality comes first, and right now it's a pain in the arse to jump between Blockman at one end, and Kabooma Looma all the way over at the other side.
5. Look into whether it's possible to chop up a wav into smaller waves.
iOS 14 beta has come up with annoying issue, whereby the Javascript "Play a sound from x seconds to y seconds" is ignoring the "from" bit.
As such, EVERY sound in both Browsercade and Shoebox is playing the exact same first sfx, over and over and over.
I'm fairly confident that they'll fix this, before the final iOS rolls around, but for the sake of future proofing, it might be a good idea to figure out a way to do the audio in a more compatible manner.
So, that checklist, so far..
1. Socoder BBCode Buttons
2. Foldapuz Interface
3. Foldapuz Unfolded
4. Browsercade Main Menu
5. Browsercade Audio Methods
If you think anything else should be added to this list, do be sure to let me know.
Regular AGameAWeek will be back in September.
And I definitely won't just waste the entire month playing No Man's Sky..
...
... definitely not!!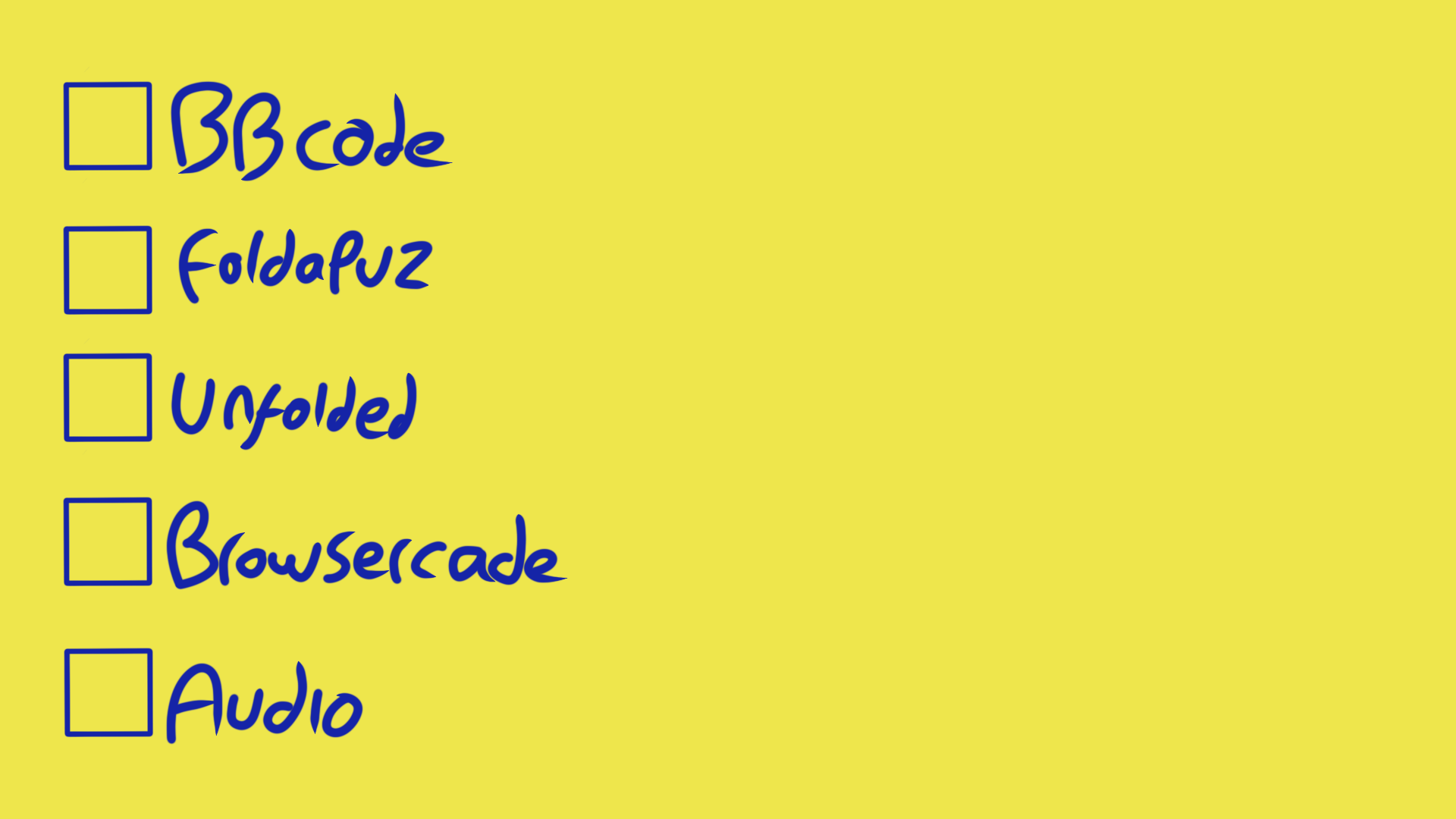 Views 68, Upvotes 1
Daily Blog , Planning