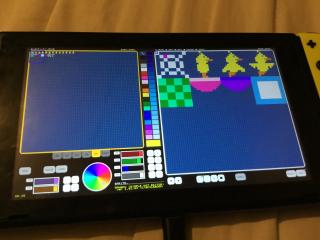 The default pixel-sprite editor for PetitSwitch
Scroll around the left-side (full spritesheet) with the left thumbstick, draw in the right hand "zoomed" view (you can zoom in further) with touchscreen or mouse.
Controls for colours, but the palette doesn't save. .. Booo!
Plenty of twiddly knobs and buttons, barely any of which I have the faintest idea what they're doing.
A to plot, B to pick colour.. .. Except..
The dpad doesn't move the cursor.. In fact, NOTHING moves the cursor.
Instead, you're stick with Mouse Control to do everything.
Not even copy+paste!?!
Drawing outside of the boundary of the zoomed in region (eg, mis-clicking the dodgy palette boxes) will randomly splodge a pixel in any area outside of that region.
You have limited zoom options, but at no point can you zoom directly into a single sprite.. It's always slightly too large, or slightly too small, and 1 single sprite never quite fits into the editor's viewport.
Scrolling also occurs based on the size of that viewport, so trying to edit one sprite, then move to the next, is damn near impossible.
Also, seriously, no thick gridlines at 16 to help guide you to drawing within the sprite limits!?!
Really, all kinds of messy, and ..
Nah..
Not gonna be happy using that.
..
So, um.. You can probably guess what I spent most of today doing.
Read More
Views 40, Upvotes 0
Petit Computer , Smilebasic , Nintendo , Switch , Petit Switch , Petitcom4