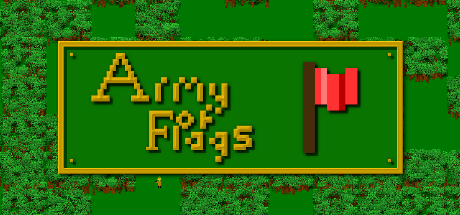 Shoot to kill, and avoid enemy fire, as you try to gather up all the Flags.

Screenshots
Watch out for the oodles of bad guys that are desperate to thwart you, for some reason.
Maybe they really want the flags, too?

- Move

- Shoot
Main Downloads
HTML5
Play this game in your browser, at GameJolt
Windows
Download for your PC
Android TV
Download for Android TV compatible devices. (Requires gamepad)
OUYA TV
Visit this game's OUYA.tv page
Bonus Downloads

Extra Links

Blog Post

Read about the original launch of this game, in an accompanying blog post.

Reviews

Otakupunk

Otakupunk's LetsPlay of the game.
Views 1534, Upvotes 5
Cannon Fodder , Collexion , Maze , Shooter