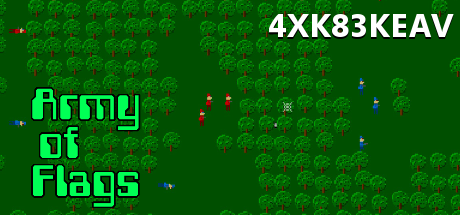 The blue army have swiped all the flags from your base, and scattered them throughout the forest.
Take your best weapons and blast them all away, whilst gathering up the flags and bringing them all home.

Created 24th October, 2019
Language SmileBASIC
Screenshots
-
Left Thumbstick to move, Right thumbstick to fire
Main Downloads
4XK83KEAV
Play this game in PetitCom4, on your Switch, using the Public Key,
4XK83KEAV
Bonus Downloads

Extra Links

Blog Post

Read about the original launch of this game, in an accompanying blog post.

YouTube

Watch the trailer on YouTube.
Views 30, Upvotes 0
Cannon Fodder , Army , Guns