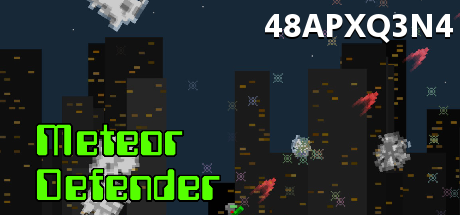 The city is under attack from an alarming number of meteors.
Grab your biggest plasma rifle, and start protecting.

Created 9th January, 2020
Language Javascript
Screenshots
-
Left Thumbstick to Run
Right Thumbstick to Gun
Trigger to jump, but that'll probably backfire!
Main Downloads
48APXQ3N4
Play this game in PetitCom4, on your Switch, using the Public Key,
48APXQ3N4
Bonus Downloads

Extra Links

Blog Post

Read about the original launch of this game, in an accompanying blog post.

YouTube

Watch the trailer on YouTube.
Views 26, Upvotes 0
Obliteration , Amiga , Alien , Spindome