Awww

This week I've been ill, and between website tweaks, and lying in bed half-dead, I've not really had time to get anything done.
This morning, I managed to wake up, and was bright and alert.
I figured it was probably a good chance to get something done, so I grabbed the half-assed sprites, popped them into an engine, and got them running in a right facing direction.
Adding random pipes, and the ability to jump over them, I'd made a 1980's style Waggler Hurdles type game.. You know, the ones that really knacker your joysticks!!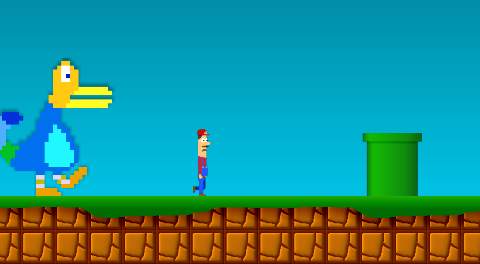 After approximately 10 seconds of gameplay, waggling and jumping became as boring as you'd expect it to be, and it's at this point that I'm struggling to come up with anything else.
I could add things to Idigidragon, make him throw flames at Greenie, make Greenie collect items as he goes, but .. meh..
Game fail..
Rather than fiddle around with things, trying desperately to get them to work, we'll instead call this week a fail, and move on.
It's a shame, and it does ruin the whole "MAR10 Month", which is a bummer.
Dangit..
I'll try not to sleep as much, next week!!
Views 4, Upvotes 0
Daily Blog