Engine's now ready for any and all future word-based games that I might randomly decide to build. The wordlist adds 970Kb to a game's exe when added, and when asked it spends about 100milliseconds hunting through the complete list for a word.
Luvly.
So, with that out of the way I'm heading back to Centipong.
You'd think, about 4 weeks into the whole Framework thing, that things would be more or less finished.
You'd be wrong.
There's LOADS of stuff that I've still not done!
It's terrible to think of all the silly little things I've not yet done, but it's built with enhancements in mind, and over the coming weeks and games it'll all build up into something a little more magical.
For the meantime, I think everything's in there that I need for Centipong.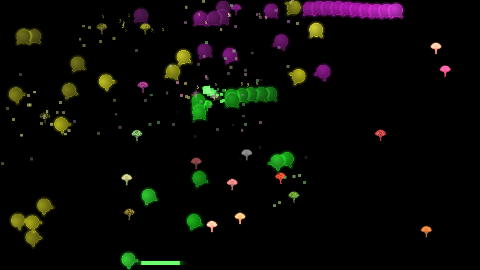 Mmm... Centipong!
Things added today.
1. Mushrooms
2. Particles!
I've gone a little crazy with things, and I'm not entirely sure how fast it'll run on slower systems, but we're still playing "Testing the Engine" here, so it'll be good to know how well everyone's systems handle such huge sprites.
Because, even though they look tiny onscreen, they're actually all 128x128 pixel sprites!
Sure, it's a little overkill, but I really want to push this engine to it's limits.
One good thing I've noticed is that setting the game to a lower resolution does speed everything up, so I think the system's trying to cope with all the large polygons a lot more than it's coping with the large images. If you get what I mean.
*shrugs*
Centipong will be here on Tuesday.
I've missed enough weeks..!
And it's still not got a decent subtitle yet.
It's currently Centipong 2 : Gentler, Calmer, Crazier!
Views 1, Upvotes 0
2010 Framework