Very rarely do I get feedback direct, other than from the few of you who seem to hang around here a lot, but there is feedback out there.. if you really hunt for it!
This past couple of weeks have, as per usual, been all about the Two-Button-Jump.
"OMG! Two!? WTF!" and so on. I can deal with those complaints, I've heard them many a time before, and even added the extra one-button rubbishy mode to help those who can't shut up about it.
It's annoying, but what the hey.
*fingers in ears* "La, La, La, La, La!!!!" *fingers in ears*
---
The other common complain is the "He looks like Bart Simpson!" argument.
Yes, it's true, colour-scheme wise he does look a bit like Bart Simpson..
But that's purely co-incidental.
Platdude was originally "drawn" in raw code, using QBasic on a really old PC.
He actually looks like this.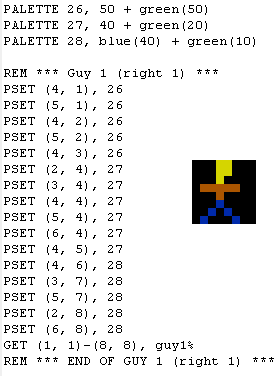 He's a little off-colour, but given his arena and the fact I was using QBasic, they were probably the better colour choices. The fact that he's turned out to be a bit "Bart"-like is just because he's been brightened up a wee bit.
He's actually supposed to look like this guy..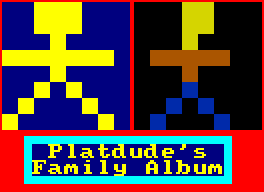 But I couldn't quite remember exactly how that guy looked, and accidentally made his head, arms and legs a little bit too short.
I hope he isn't offended!
---
Next up, turning is too slow apparently.
The slow-turn was introduced with the One-Button-Jump, but if it's in the way, I'll get rid.
Next release, Two-Button-Jumpers will be able to insta-turn!!!
Hurray!!
---
Today, I stumbled upon this.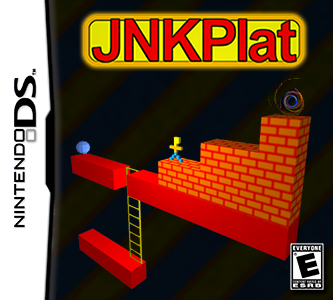 "cover designed by: chelinka"
I must admit, that's some damn fine work, there!
Let's see what we've got..
1. Level and sprite graphics from
JNKPlat3D 06
You can tell, because it's got the 06 sphere, and the ugly as crap ladders..
2. Exit from JNKPlat2010 because that's the Dr-Who-Tunnel effect that I made the exit into, this year!!
3. Background, logo and.. maybe even the fluff from the 2010 one, too, but I can't be too sure.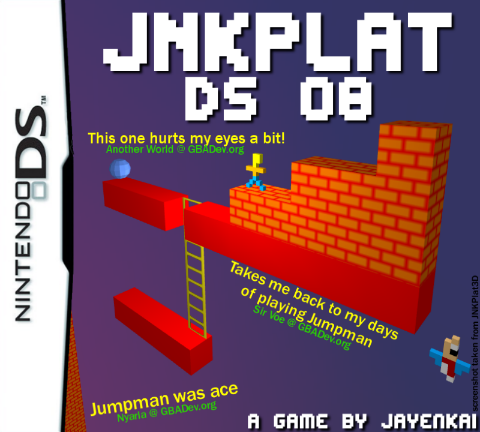 For anyone interested, there's my version!
I did that 2 years ago, and apparently it went unnoticed.
Good think I have slots in my archive for those things, now!
If you're a member of the espalnds forum, let 'em know what's going on. They seem baffled by the many versions of JNKPlat! I tried to register, but it wanted me to sign up to a bunch of stuff I'd rather not.
Views 3, Upvotes 0
Daily Blog