Ever since I came up with this whole MAR10 Costume idea, I've had three games in mind.
1. Ted Bob was a great game, and needed an update. By making it More Mario, I could easily add extra bits into the mix.
Job done, turned out nicely.
2. "Monsters Upside Your Head" played bizarrely, but nicely! Redoing that in DK style seemed obvious, but didn't quite turn out exactly as expected.
Job attempted, didn't turn out so great.
3. Munky running around with a Mario Costume on..
I'll be honest, this is just a silly image, but the idea of taking the Bowser-Castle levels from the original SMB, and replacing mario with a space munky!? Hey, that's good gaming, right there!!
Not sure entirely how this game's going to turn out, but I'll try my best.
Today, I draw a munky...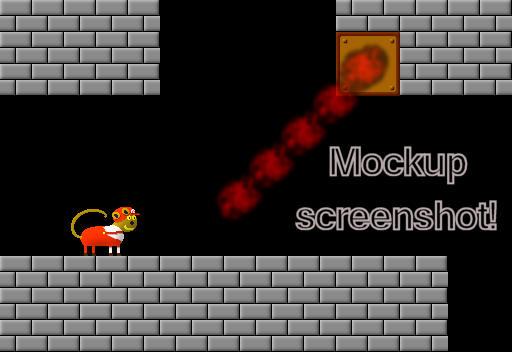 The next couple of weeks, though, are a bit of a blank.
I have 2 more Tuesdays to go, a whole batch of characters to play with, but I'm already running short on obvious ideas.
I'd love to see Greenie in a Mario Costume, but what would that play like?
And what about Blockman? Trying to mesh together Pacman and Mario almost makes no sense at all.
Hmm..
Thoughts?
Oh, and Platdude already had a Mario costume in
JNKPlat 07
..

Result : Platdude in a Mario Costume feels very very wrong, given Platdude's control method!
And, I just spent about 20 minutes playing that, so.. Go have a play!
Views 6, Upvotes 1
Daily Blog