I'm jumping all over the place, lately, aren't I!!
With Skeleton files to update, Menus to rejig, and even super-complex Socoder work, there's lots and lots and lots for me to do!
This morning, I've hopped back to Platdude's Retro Collection 2. Day 14 is a whole day away from Day 13. That can't be good! The game won't be finished for another year and a half at this rate!!
Right then.. Menus!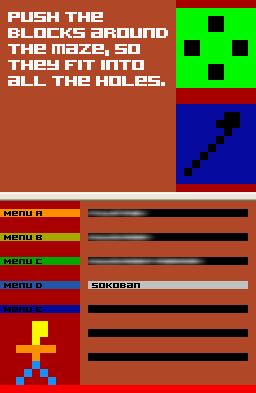 Previously I'd copy+pasted the menu system from the previous game. To be fair, it did it's job.
But having the game open up, and look EXACTLY like the last one, probably wasn't all that good of an idea.
So I filled the area in, and left it blank.
Looks rather empty right now, but once I pop some text and buttony things in, it should look ok.
Maybe!!
I also decided to make use of the top screen, with the Dpad/Stylus images being up there alongside a brief description of the game selected.
So, that's roughly what it'll look like.
No doubt it'll have a couple of tweaks, here and there, before I'm done. But for now, that's how it looks.
Now I can add my 4 games into the menu! Woot!
Views 39, Upvotes 5
Platdude Retro Collection 2