Right then, first Monthly Switch game.. Time to get drawing!
-=-=-
Game number one of my new Monthly regime will be Alien Deathmatch Arena.
The game requires a ton of art to work well. All those nasty looking aliens, at a decent enough quality, along with the walls and then some levels on top.
Start off with a couple of arenas unlocked, then open up the rest as the player gets better.
A whole bunch of weapons, too.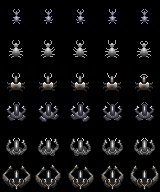 The arenas will be more like the original game's arenas, with walls and doors and special placements for the powerups to appear.
.. I say that, but I also now have to draw it all, too.
Eeek!
I've got plenty of time, though. One alien a day for a week, then some walls.
Plain sailing, right?!
First task, rewrite my sprite editor to work with 32x32 sprites, because everything I've done in SmileBASIC so far has been using 16x16 sprites!