Amadeus Pro is (temporarily) broken!
-=-=-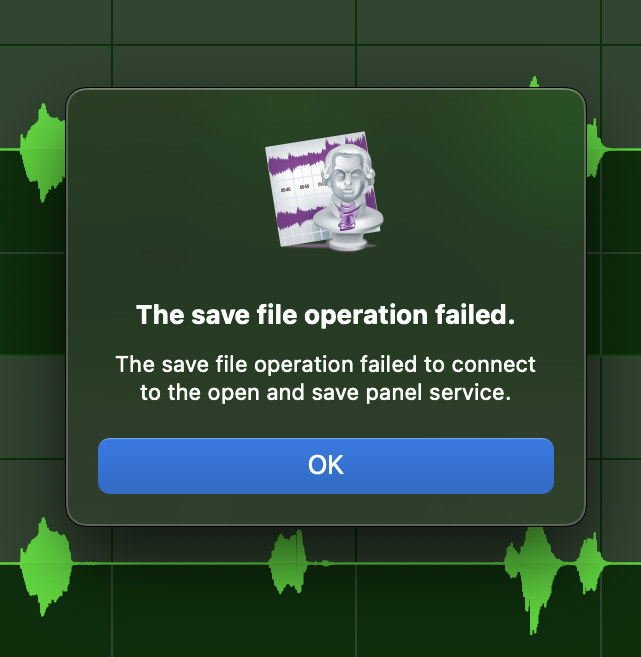 Yesterday I went to add a new sound effect pack to SpikeDislike, and came upon this curious error in Amadeus Pro.
I'm assuming this is "I'm running the beta of MacOS" related, so I'm not too worried about it, though I have sent a report to the devs, just in case.
It's a bit of an issue, right now, because it means I can't save anything to new files, but can happily save them back to its original file.
.. But that's no good when the audio file I'm chopping up is in .mp3 format and I want to create snippets in .wav format.
Hmm..
That's OK, though, I still have CoolEdit running on ... Oh.
I unplugged the MacMini with Windows running on it, the other day, because I'd installed QEMU and Win11 ARM on the MacBook.
That's OK, though, I can install CoolEdit onto that instead!
And I tried.
And I failed.
CoolEdit Pro 2 from around 2002 no longer happily runs on Windows 11, or at the very least, not on the ARM edition.
I could definitely do with adding some of these sounds into the library, though, so .. I think I have a plan.
Leaving the idea to ferment overnight, I think I have a solution.
Amadeus can at least save as-is, so if I duplicate one of the sounds in the current sfx pack, I can replace it with a clip from the above audio and save it back out again. I think.. I hope!!
I'll do that later.
Meanwhile
The rest of yesterday was spent finishing off that theme (other than the sound) for SpikeDislike, and then another theme on top which is all kinds of insanity!!
I'm now up to 15 themes for the SpikeDislike "SpikeVent" calendar, and have yet to resort to Blockman and Platdude themes, so I reckon that's going well enough.
17 days left... 10 themes to do. Come on, Jay, you can do it!!!
(I still haven't coded the unlocking functionality, yet!)