I tried again with the Browsercade game I had in mind, but once again gave up midway.
-=-=-
As I started to add floor and ceiling collisions to the player's jumping, my head screamed "OMG, not this again!!" And it was right. I've written that functionality in that exact same way, far too many times, and the result was exactly the same as it always ends up being.
I'm not really sure on what the best path might be, but I think I seriously need to rethink what I'm doing with this game, and .. As I type this, another crazy idea has indeed popped into mind.
I wonder if I could do that, instead?
Hmmm..
Meanwhile
View on YouTube
Took ages doing the music video for this week's ALChoon. Though it's deceptively a simple series of images, I had to sit and ask NightCafe Studio for hundreds of little pictures, in order to get things working as well as they are.
Mixing the elements together and adding lyrics was all a bit of a chore, but it worked out in the end.
I probably could've done with drawing a little Witch at the cauldron, but .. it was enough, I think.
.. Maybe.
Meanwhile, Meanwhile..
I had a terrible sleepless night, last night, lying awake from about 1am to 5am. Couldn't get over.
Coooooold..
Looks like it might be time to finally turn on the heating at night to keep the chill out of the house, though it'll likely cost us a bloomin' fortune to do so!!
Brrrr..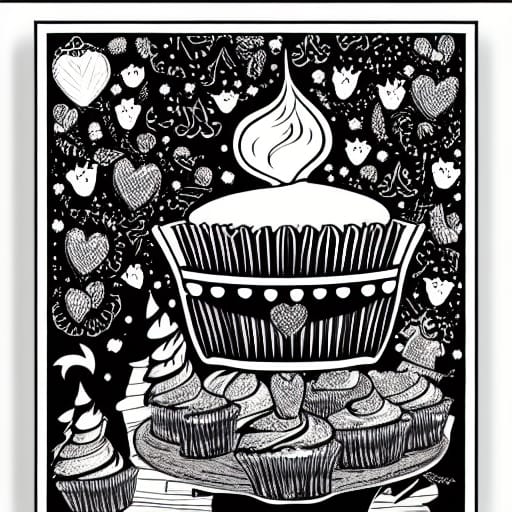 "A monochrome fairytale Illustration. A black page with a beautifully iced cupcake in the centre."
One of the many (many!) discarded images that
NightCafe.Studio
generated yesterday!