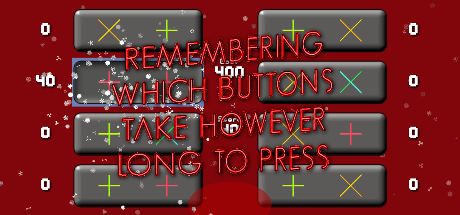 Hold down the buttons to score some points. Don't hold them too long, though, as they may explode! A game semi-suggested by Dan Bull.

Screenshots
Hold the buttons down long enough to earn the target score.
You'll need to learn how long each of the buttons can be held for, to have a better chance of winning.

- Move

- Hold
Main Downloads
HTML5
Play this game in your browser, at GameJolt
Windows
Download for your PC
Android TV
Download the .APK for Android TV compatible devices. (Requires gamepad)
OUYA
Download the .APK for your lovely little OUYA
Bonus Downloads

Extra Links

Blog Post

Read about the original launch of this game, in an accompanying blog post.

Reviews

Otakupunk

Otakupunk's LetsPlay of the game.
Views 993, Upvotes 4
Dan Bull , Bug , No Mans Sky