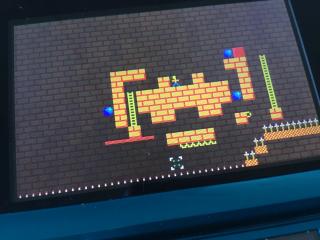 Another 4 levels of JNKPlat were made, yesterday. Nice and big proper levels that should take a few minutes to solve, assuming you manage them in the right order!
-=-=-
I seem to have started making rather similar feeling levels, now, so I think it's definitely time to start adding a couple of more tiles into the engine.
Hopefully I can come up with interesting elements to add.
I'm still in two minds as to whether I need to add water into the game. It's probably going to be more difficult than I imagine, because in my head I need properly flowing water, and that's not exactly easy to do.
So, more death objects, and I should probably get the coloured keys and gates to work properly, too.
Plenty to focus on!
Meanwhile
I got the simpler bits of Foldapuz.com up and running yesterday, shifting the main generator over to the .com, and getting it nice and stable. There's even caching! Crikey!!
Next I need to create a decent looking page to allow users to choose their favourite puzzles.
.. But first, I need to make those puzzles!
Views 50, Upvotes 7
Daily Blog , 575 , Jnkplat2018