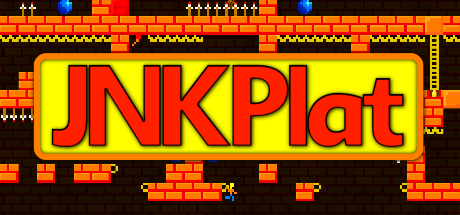 Platforming with Puzzles!
-=-=-
The Brief
Guide Platdude through 100 levels of puzzle platform insanity!
If you get bored, you can use the editor to make your own levels.
Awesome!!
You can
Download JNKPlat here
for Windows, Linux and even 3DS Homebrew!
Online Level Database
The online level database can hold a fairly decent size number of levels, and works more or less automagically from within the game.
Level packs will only be uploadable if you can manage to play through all four levels in the pack with your default three lives.
Once you can, you should find that you can hit the U button to upload the level pack to the server.
Backup Online Level Method
Because of the possibility of an update breaking my 3DS's homebrew methods, I've chosen to leave my 3DS's Wifi switched off, and as a result have disabled online methods from the 3DS version of the game.
Instead, then, you'll need to grab the .lev file from your game's folder and upload it to the Level Storage page.
You can
Do that Here
.
You can also download the most recent collection of levels from the page, too.
Controls
WASD for movement.
J for Jump-Left
L for Jump-Right
Hold K to Hold
Hold I to kill yourself (Shouldn't be needed too often, but you may occasionally end up stuck, fallen into a hole, with no way back up, or something!!)
How Not To Lose
Try not to die!
What I Didn't Do
I've tweaked a number of "issues" that people had with the previous release, but there's probably still some quirks left in the game.
Let me know if you find any!
The Mac version is currently doing my head in, so apologies for that not being a thing, just yet. I think it's finally time to give up with OpenGL and start focusing on getting the Metal API working.
You can
Download JNKPlat here
for Windows, Linux and even 3DS Homebrew!
Views 432, Upvotes 4
575 , Jnkplat2018