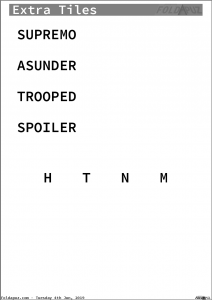 A simple, but effective little Anagram game.
Four 7 letter words are laid out, along with 4 extra tiles at the bottom.
Add one letter to each of the "racks", shuffle the letters, and try to make four 8 letter words.
SPOILER (PROLINES)
You can
Play Extra Tiles here
, or watch out for it showing up in regular Foldapuz circulation, as of tomorrow.
-=-=-
In addition, I've finally got around to fixing (I think!) Kakuro, which was previously oddly broken, so that puzzle is now back in the selection, once again.