I'm not entirely sure who came up with this idea, but it's been roaming around the internet for the past few years.
This week's
Wednesday Workshop #165
was to create a game using only one button.
So, Heck, why not!
??
I grabbed the generic Cowbell Hero logo from the net. I'm still not sure who originally designed it, but there it is.
In went Platdude, and a few silly songs, and then a few extra songs from the folk at ModArchive.com, and within just a few days the job was done.
??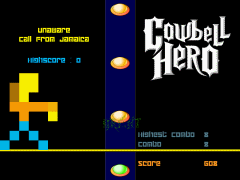 ??
And now you can play it, and be happy that Guitar Hero's a little more complex than that, and thus well worth the money!
yeay!
??
You can
Download Cowbell Hero
here.