Hello all, Welcome to year two!
This year, I'll be keeping track of the weeks, and games, and things like that, so we can tally up as we go along.
Week 1, Game 1, 1:1 ratio! Good stuff!
This week's game isn't a game. It's more of a toy.
If you've ever played Jam Sessions on the DS, you should know what to expect.
And, yes, this is for RockBand/Guitar Hero guitars, so that'll probably rule a lot of you out.
If it helps, I bought Rock Band for the X360, and it plugs right into windows without needing any extra drivers or anything. How great is that!! (for the record, so do the drums! woot!)
So, step 1, plug in your USB guitar.
Step 2, find the chords for your favourite song. They usually come up if you type "Guitar Chords 'song name here'" into Google.
Step 3, Load up Rock My Chords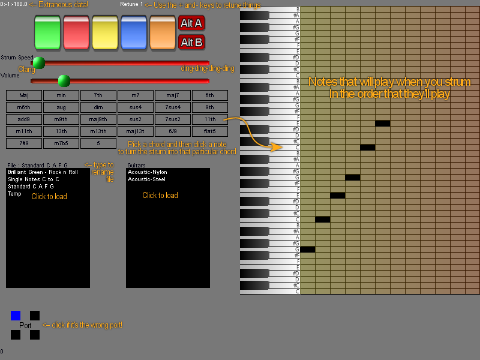 Hold a button on the guitar to switch to that button's setup. Whilst holding, click on the note grid to turn notes off and on.
You can also choose a chord, and click into the first note column to change the strum into that particular chord.
Type to edit/rename the song's name, and it'll autosave whenever you click inside the note grid.
You can hold down multiple buttons at once, so chords can be placed into a variety of frets, and I've even added Alt-Buttons, so if you've a RockBand guitar, you can use the lower fret keys, or even set the Back button to an alt, too...
Plenty to play with.
I should probably point out though, that I pretty much just made this for myself.
Little or no interest was given during the few twittery tweetys twits that I posted throughout the past few days, so I guessed no-one would give a rats ass about this little toy/game.
As such, there's a few niggly little bugs that could do with tweaking, but that I personally could live with.
If anyone at all wants me to fix things up, just ask, and I'll get right on it!
You can
Download RockMyChords here
, but make sure you've plenty of Music ready and waiting, 'cos I've not set up jack!!
And sorry about the filesize. Having 96 guitar samples will do that!
Views 3, Upvotes 2
Release